Bolsena Lake
Bolsena
Lake
lies in the centre of a very historical, mainly medieval area with distant
Etruscan origins
. Bounded by
Monti Volsini
to the north, the lake is the
largest crater in Italy
and contains two islands,
Bisentina
and
Martana
. The lake is subject to 'sesse', a local word that describes fluctuations in the water level similar to very small tides. Terraces around the fish-filled lake are covered with woods, vineyards and olive groves.
Bolsena Lake has also been declared the
cleanest lake in Europe
.
Its basin and its endowed lakefront allow the tourists to spend cultural and joyful holidays.
Starting from
Bolsena
and wandering through the panoramic street around the lake, you can come across many colourful towns:
Montefiascone
, with its stunning lake panorama,
Marta
, a fishermen's town,
Capodimonte
,
Valentano
,
Gradoli
,
Grotte di Castro
, a beautiful medieval borough and
San Lorenzo Nuovo
, a perfect example of 18th century urbanistic settlement (a rare eight sided square is the town center).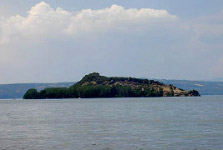 Bolsena
overlooks the volcanic lake from a
hilltop
. The olive-covered lake shores have been a holiday place since ancient times.
The town was conquered by the Romans in 280 B.C. but still retains
Etruscan walls
dating from the 4th c. B.C. and a small temple on the hills behind the town. Surviving remains of the Roman period include an
amphitheatre
,
baths
,
bridges and roads
. The town became a place of medieval Christian pilgrimage in 1264 when
the miracle of Corpus Domini
took place
in
the collegiate
church
of Santa Cristina
(11th c.), which is built over a catacomb. This charming church contains the sepulchre of Santa Cristina and a chapel known as
Cappella del miracolo
, which houses an altar stained with eucharistic blood.
Bolsena had another reason to be famous with the transit of wanderings who went from north towards Roma through
the Francigena road
, that from Siena identifies with the Cassia road, previously runned along from Longobardi.
Bolsena has nowadays the typical look of a
small medieval village
.
In wintertime
little more than 4.000 persons reside there and the quiet is hardly broken by the traffic of the Cassia road and by
visitors with religious or studious intent
.
From the springtime
, the buses with
students' tours
animate the lake-front and the buses with tourists invades Santa Cristina place to visit the catacombs and the Eucharistical Miracle altar.
In summer
is possible to practise every kind of
aquatic-sport
:
boat-racing
,
water-ski
,
swimming
,
fishing, wind-surfing
and
sailing
.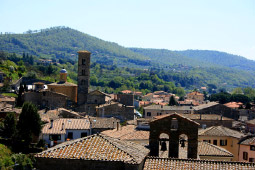 The oaks-chestnut trees-hornbeams-woods
on the hills around Bolsena
allow
the holiday-makers
to make many excursions
and here a park, realized by the municipal corporation, offers a place for picnics and free camping.
The remains of ancient settlements and of the etruscan necropolis, are the fascination for archaelogists, students and tourists. The numerous restaurants serves
typical latium dishes
with fish of the lake and agreeable wines;
the most appreciated wines
are the red ones:
Aleatico and Cannaiola
and the white one
Est!Est!Est!